We used to buy garlic bread at the store until we realized how quick, easy and tasty it is to make it at home!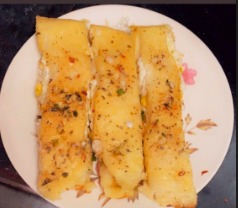 Prep Time20 mins
Cook Time40 mins
Total Time1 hr
Coriander leaves, chopped
Cooking Steps
1
Take Lukewarm milk, yeast and sugar and mix everything.
This will help yeast ferment nicely.
2
In a mixing bowl, take maida, add some salt into flour.
Never add salt into the yeast.
Now add oil and mix well.
3
Now take both the mixture together.
Add the yeast mixed milk into the flour mix.
4
Make a soft dough.
We can add little more oil in the dough.
Cover the bowl and let it be for 1-2 hours minimum.
5
Now make a garlic butter:
Take Melted butter, add finely chopped garlic, some chopped Coriander leaves, Chili flakes, some Black pepper, and a little salt.
Mix everything, Garlic butter is ready.
6
On the side, in a pan, make a layer of salt, Heat it up at low to medium flame for 10 min.
This will be pre-heated.
7
Now take the dough which you had left for proofing.
We will see that it has risen almost double in size.
8
Dust some maida on a flat surface.
Take the dough and flatten it and make a round with hand.
9
Apply garlic butter to one half.
Now top it with some boiled sweet corns, chopped capsicum, chopped onion, and mozzarella cheese.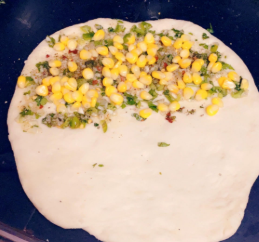 10
Fold the dough to make a semi-circle and seal the borders.
Now make soft cuts and apply some garlic butter on the top.
11
Now take another pan greased with garlic butter, and place the flattened half-round dough.
Place it on the pre-heated pan of salt.
12
Cover it and cook it for 30 mint on low to medium flame.
Do not open in between.
13
After 30-35 mint, flip the bread and cook for another 5-7 mint.
14
Take it off the pan.
Garlic bread is ready. Apply some garlic butter on the top for a nice glaze.
You can also find us on Twitter, Facebook. Visit for Submit Recipe.