Malai Soya Chaap curry is rich North Indian curry made with soya chaap. Soya Chaap is cooked into creamy and mildly spicy flavourful masala gravy which is made with rich malai or milk cream.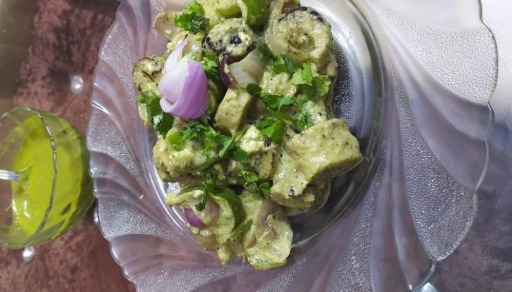 Prep Time15 mins
Cook Time45 mins
Total Time1 hr
15
Cashews or almonds, boiled
1
tsp
Coriander leaves, chopped
1
tsp
Mint leaves, chopped
½
tsp
Black pepper powder
2
Green chillies, chopped
Coriander leaves. for garnishing
¼
cup
Onion and Capsicum, chopped
1
Soak the soya chaap in water overnight. In the morning, boil it for 5–7 minutes then wash it well under running water and finally squeeze out the water.
2
cut it into 1-1.5 inch chunks.
3
In a bowl add these soya chaap chunks and ingredients of the marinade. Add salt, black pepper powder, curd and lemon juice rub the chunks, cover the bowl and keep this bowl in refrigerator for 40 minutes.
4
Now to make malai gravy first of all make a dry masala for the gravy.
Grind together dry coconut, kasuri methi and almonds. Keep them aside.
5
Heat 1 Tbsp oil in the pan and add chopped onion and capsicum.
Saute the onions till these are light pink in color and add ground coconut masala.
Cook it for 2-3 minutes on slow heat till coconut is slightly toasted and fragrant.
6
Now add marinated soya chaap pieces and cook everything for 3-4 minutes on the slow heat while stirring it continuously.
7
Add cream/malai and also red chilli powder, pepper powder and kitchen king masala.
Mix everything well and cook for another 4-5 minutes.
8
Garnish with fresh coriander leaves, slit green chillies and serve the malai soya chaap gravy hot with phulka paratha or rice.
You can also find us on Twitter, Facebook. Visit for Submit Recipe.