This Stuffed Bread Coins makes for a nice breakfast or snack option.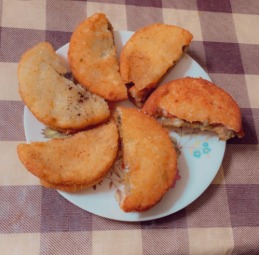 Prep Time15 mins
Cook Time15 mins
Total Time30 mins
½
cup
Potato, Boiled and mashed
1
Tomato, chopped (De-seeded )
1
tsp
Coriander Leaves, chopped
1
In a bowl, add boiled potato, chopped onion, chopped tomato, coriander powder, chopped green chili and finely chopped ginger.
2
Now add chaat masala or red chili powder, salt and coriander leaves in the mixture.
Mix it well and keep aside.
3
In a another bowl, Add all purpose flour and salt.
Add water and make thin batter.
4
Cut the bread pieces in circles.
We can use a small bowl to cut bread pieces.
5
Grind the edges of beard pieces and make bread crumbs.
6
Now Apple thin layer of tomato ketchup on the one side of bread.
Top up with potato mixture.
Apply mint-coriander sauce on other piece of bread and put it on Top.
7
Prepare all the sandwiches like that.
8
Now we will add chili flakes and Italian seasoning in the bread crumbs.
Mix it well.
9
Dip the sandwich in batter from all sides.
Now, Coat them with bread crumbs and press gently with hands.
10
Now shallow fry them from both the sides till crisp and golden brown.