Homemade Sweets Recipe
No celebration in India is complete without sweets and when it comes to Diwali. Then there is going to be a lot of things to be prepared. From laddoos to burfi and many other delicacies.
Diwali is one of the major festivals in India and is celebrated with full pomp and show. The celebrations for the same start from a week before and last for up to 10 days. Let us have a look at the Top 5 homemade sweets recipes that you can prepare at your home without any hassles.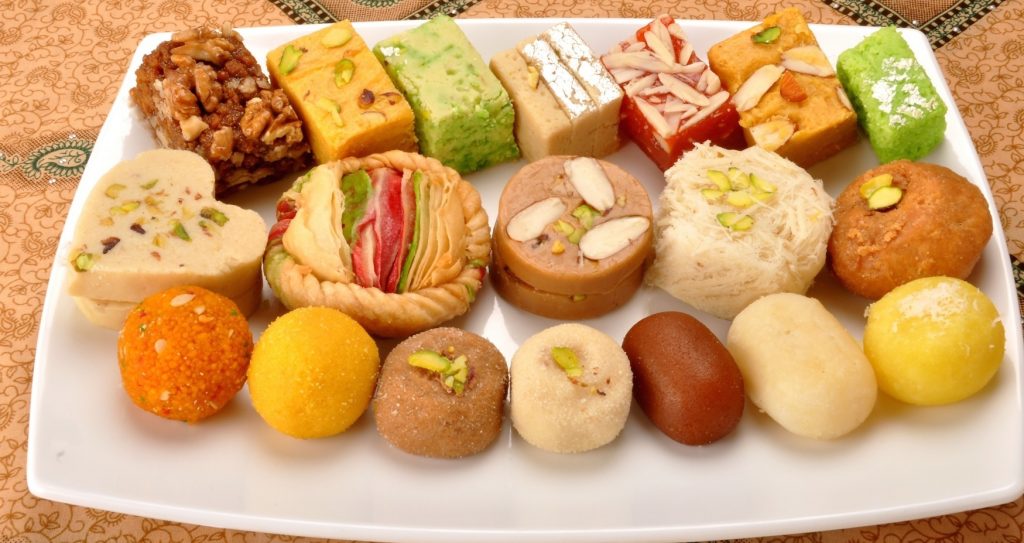 Coconut burfi
One of the most loved and easiest recipes is the making of coconut burfi.
All you need is grated coconut that you have to mix with condensed milk and make balls.
Once the balls are ready you can rub the coconut dust all over it and garnish it with pistachios.
Your coconut burfi is all set to be served.
Kaju Katli
This is one of the best Homemade Diwali Sweets Recipes and most loved sweet that you can enjoy making at home.
The burfis are made with cashew and milk mixed together to form a paste.
When the paste is ready you need to cool it down in a tray.
Once the mixture is set and cooled you can garnish it with silver foil and cut it into diamond shapes.
Your kaju katli is ready to be relished.
Sooji kheer
This recipe is made using rava and milk and sugar. It is an instant dessert that it made using simple things that are easily available at home.
Take a beaker and roast the Rava
Add milk and let it boil and mix together
You can also add condensed milk for extra flavor.
Cool it down and serve with almonds and pasta garnished over it.
Shahi tukda
A one of the Top homemade Diwali sweets recipes that is relished by everyone. All you need is bread and milk with sugar to make this masterpiece.
Boil milk in a pan with cardamom and kesar and let it reduce to one by forth part.
Add sugar, let it become like rabri and keep it aside.
Deep fry triangle shaped bread pieces and take them out on a platter.
Add the rabri on top of it and garnish with kesar leaves and pistas.
Rice kheer
If you have kids at your home that are going to visit you on Diwali then you must make kheer and welcome them with open arms. This is a great dessert from 5 homemade Diwali sweets recipes and is loved by everyone served hot or cold.
Boil milk and add uncooked white rice to it.
Bring it to a boil and let the rice cook nicely and mix with the milk.
Once the milk and rice have combined together you can add sugar to it with dry fruits and serve it hot or let it cool then and them garnish it with rose petals and serve.
Conclusion
These are the top 5 homemade Diwali sweets recipes that you can make at home quickly without and hassles and enjoy them with your family.