Follow our Food Recipe and Make White sauce pasta in simple Steps at Home.
well, the pasta recipe in the white sauce may not tick all those boxes but does satisfy the cheesy and creaminess taste. having said that, I have added a generous amount of chili flakes, black pepper and mixed herbs which should satisfy those requirements. however I have tried to keep it mild, hence do not overdo it by adding it more. the essence and crux of this recipe are cheesy and creamy which makes it unique.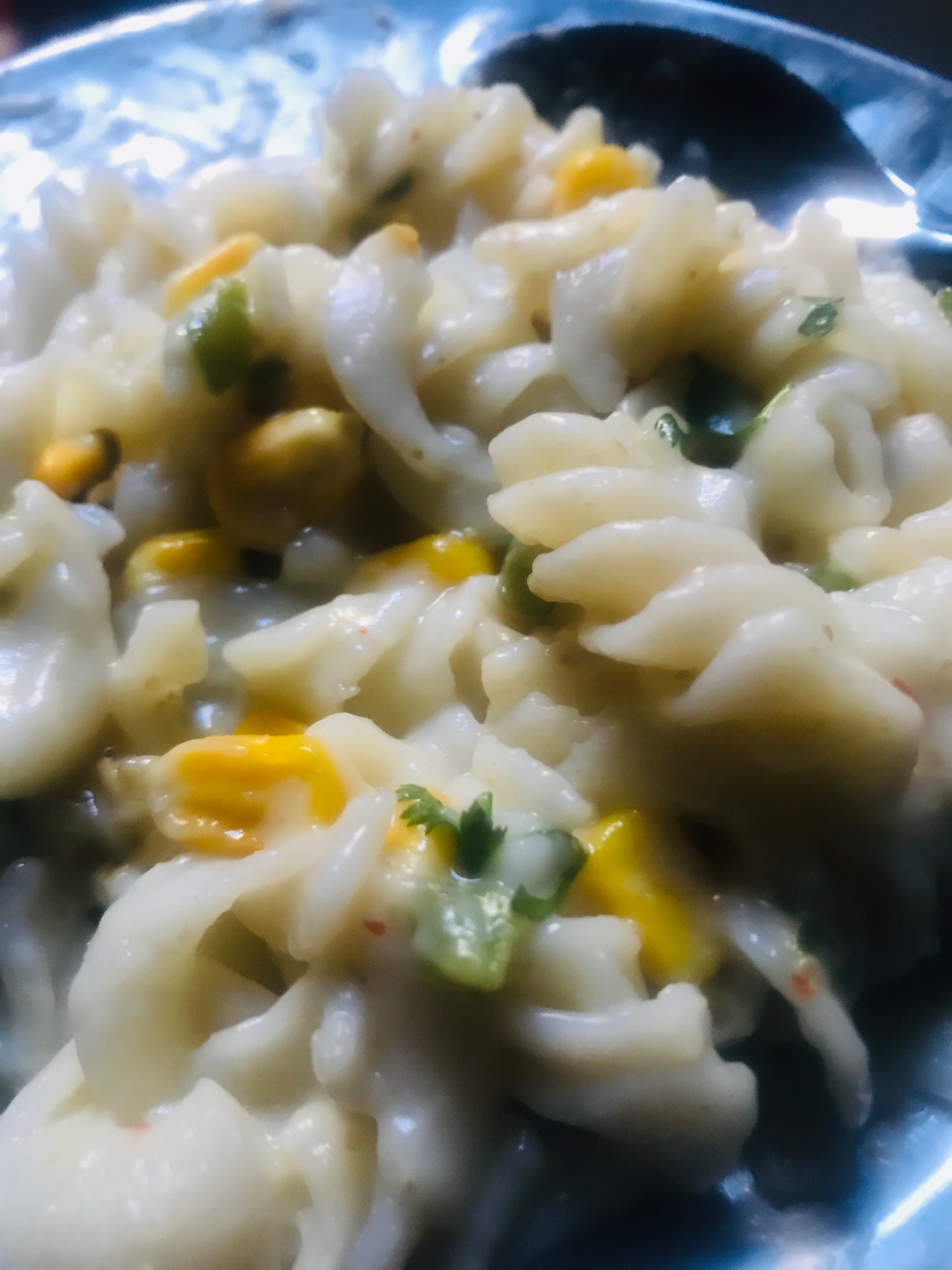 Prep Time10 mins
Cook Time30 mins
Total Time40 mins
FOR BOILING PASTA:
FOR SAUTEEING VEGETABLES:
½
cup
Onion,
finely chopped
FOR WHITE PASTA SAUCE:
1
Firstly, in a large kadai boil 6 cup water and 1 tsp salt.
2
Once the water comes to a boil, add 2 cup pasta. i have used elicoidali pasta, you can alternatively use penne pasta.
3
Boil for 7 minutes, or until the pasta is cooked al dente.
4
Drain off the pasta and keep aside.
5
In a frying pan, heat 2 tbsp oil and saute 3 clove garlic.
6
Add ½ onion, ½ carrot, ½ capsicum and 3 tbsp sweet corn.
7
Saute for a minute or until vegetables shrink slightly yet remain crunchy.
8
Further, add ½ tsp pepper and ½ tsp salt.
9
Saute well until the spices are well combined. keep aside.
to prepare white sauce for pasta, heat 2 tbsp butter.
10
Add 3 tbsp maida and saute on low flame.
11
Saute until the maida turns aromatic yet do not change its colour.
12
Now add 1 cup milk and mix well.
13
Mix until the sauce thickens without forming any lumps.
further, add 1 more cup of milk and continue to stir continuously.
14
Mix continuously, until the sauce thickens. if required using a whisk break the lumps.
15
15.cook until the sauce turns silk smooth and creamy texture.
16
Now add ½ tsp pepper, ½ tsp chilli flakes, ½ tsp mixed herbs and ½ tsp salt.
mix well making sure everything is well combined.
17
Add in sauted vegetables and combine well.
18
Now add in boiled pasta and mix gently.
add 2 tbsp of boiled pasta water if the sauce thickens.
19
Mix gently making sure everything is well combined.
20
Finally, just before serving white sauce pasta, garnish with grated cheese.
You can also find us on Twitter, Facebook. Visit for Submit Recipe.